Young-Choon & Elaine Lee 
Congratulations on WEC Singapore's 40th anniversary!
We consider it a privilege to have been a part of WEC Singapore's 40-year history as a Korean/Korean-American couple, by serving with our brothers and sisters in WEC Singapore (WEC SG) for five years (2014-2019).
At Intercon 2014, the international leaders' conference, Robin Lim, the chairman of the WEC SG board, approached us about taking up the leadership of WEC SG. It was unexpected, but as we prayed we knew it was God's will and we gladly accepted the offer.
At the time, we still had two years left of our term as Deputy International Directors of WEC International. We decided to combine that time with the additional role as the Directors of WEC SG. It was not easy to fulfil both roles with the increased workload especially as WEC SG became more active. For our international role, we had to travel frequently. However, WEC SG branch council members willingly made up for our absence. We appreciated their cooperation in attending the lengthy council meetings we had to have every time we returned from our overseas ministry trips. During those two years, and then for the next three years of our term, the role of the WEC SG branch council members, who not only helped us in our leadership, but also willingly shared in the various tasks of leadership, was critical, and we would like to express our deep gratitude to them.
When my wife and I took over the leadership role of WEC SG, we felt great inadequacy because we were not Singaporean or Malaysian. We would like to thank all the WEC SG members who accepted and encouraged us knowing our inadequacies. In particular, we were so thankful for Bessie Loke who worked close to us as our deputy, making up for our weaknesses with gifts and skills that we did not have. We also express our sincere gratitude to the WEC SG board members who were always supportive of WEC SG.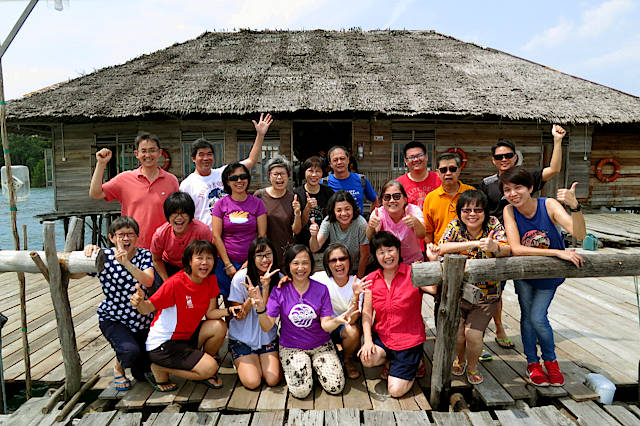 When we prayed for WEC SG at the beginning of our time in leadership, God showed us a picture of pearls that were threaded into a beautiful necklace. Each WEC SG member was like a pearl. From what we have experienced, East Asian culture and values are quite evident in how Singaporeans relate to others, but Singaporeans also have outstanding qualities of working with Western efficiency. They are responsible for their work and perform it with sincerity. Just as pearls are connected to form a pearl necklace, God gave us a picture that when individual members were connected and built into a community that Jesus spoke of in the Bible, they would be used more beautifully by God and He would work powerfully through them.
Later, God showed us more specifically the direction which WEC Singapore should pursue, as shown in the following 5 Cs.
Christ honouring (in all situations in our lives and ministries, loving Jesus)
Church relating (with active participation in the local churches, with confidence as mobilizers for mission; not only to serve, but also to have impact on the churches)
Community forming (as a community of Jesus' disciples; togetherness)
Commitment reaffirming (to the Lord, to our tasks, to our fellowship)
Cooperation/connection strengthening (with churches in Singapore & Malaysia, with resources, with younger generation)
We started to see changes internally in WEC Singapore. Fellowship among the members of WEC Singapore was strengthened and God was healing the wounds in the hearts of discouraged members. Staff retreats gave us such a wonderful memory of warm fellowship in the Lord. Seeing one of the staff emerge from depression lasting a few years was a great encouragement and joy for all of us.
Furthermore, we saw increased recognition and cooperation between members in ministry and creative ideas for new ministries. It was a joy for all of us to see the unexpected positive response of young people and churches to prayer events to pray for unreached people in creative ways initiated by some of our members. Through the planning, preparation and holding of the Appreciation Dinner for donors and the churches which had been supporting and partnering with WEC Singapore, we saw the hearts of the members become more united. Externally, we experienced growing connections and interactions with churches in Singapore and Malaysia.
At our annual conference in 2016, God showed us that WEC SG needed more younger workers. As a result, when we all began to pray together, mobilization efforts among young people began to bear more fruit. Young individuals and families joined WEC, willing to give up good jobs and security to obey the Great Commission to take the gospel to unreached people groups. The increasing number of trips to the airport to see them off to the mission field was not a chore, but a great joy for all WEC SG members to see what God was doing among and through us.
When we were planning the annual conference of our last year of leadership, we thanked God for the word "together" which came up naturally as the theme of the conference.
It is quite encouraging to see the vision of "Antioch of Asia" revived among the churches in Singapore. It is clear that Singapore is an Asian hub in terms of geography and economy. We believe the reason why God is raising churches in Singapore, an exemplary country in Asia which is having an impact on surrounding countries in Asia, is clearly to enable Singaporean believers to pass on the spiritual and material blessings they have received from God to the different peoples of those countries.
We also believe that the missions movement which took place 20 or 30 years ago among the churches in Singapore and Malaysia will rise again, and many young people will rise up and go out to all the unreached peoples of Asia and beyond.
On the 40th anniversary of WEC SG, we pray that God will fill the hearts of all the members of WEC SG, the board, and all the faithful intercessors, donors and partnering churches with joy and thanksgiving for what God has done through WEC SG in the past 40 years. We also pray that WEC SG will continue to move forward in the power of the Holy Spirit with the God-given vision to take the gospel to all the unreached peoples of the world.