Kai Cheong & Estella Ho
Steps toward Short-Term ministry in Fiji
My wife and I heard the call of God to missions in our younger years as believers. However, when we became a young family, we were unsure how it would work out if we dived into becoming missionaries.
We went to WEC Singapore and shared our concerns with Jonathan Chamberlain, the leader then, who gave us the opportunity to go to Fiji for a short-term experience, to see what it would look like for us. We were to stand in for a missionary family who were due for home leave after having planted the Chinese churches in Nadi and Lautoka. We jumped at the opportunity.
Our quick entry into Fiji and ministry
We arrived in Fiji in 1996 with our two-year-old son. The missionary family was leaving Fiji a few weeks after our arrival, but they orientated us well, to go from "arrival mode" to "survival mode". We quickly adjusted to getting around, buying food, appreciating Fijian culture, understanding networks of relationships among the Chinese community, and getting oriented to the ministry of the church.
Survive we did, but not without a steep curve
English had been my sole ministry language all along. Here, I had to preach in both Mandarin and Cantonese! This was a really, really steep learning curve, with a lot of embarrassment from using words the wrong way. However, with the patience of people, and help from God, those sermons, week after week, eventually became palatable to the ear as well as to the soul.
One night, a Singapore expat who was working in a textile factory came knocking at our door, seeking help. A group of Chinese ladies who were contract workers had run away due to certain disputes with the management. I had to drive the church van to look for them in the dark Lautoka streets. Finally they were found, and with the Lord's help they began to calm down and accept some resolutions from the management. Unknown to us, the ladies had a good impression of the Chinese church and were willing to listen to our counsel. We progressed to having strong bonds with them, and they became great supporters of the church's ministry. After all these years, we still think fondly of them.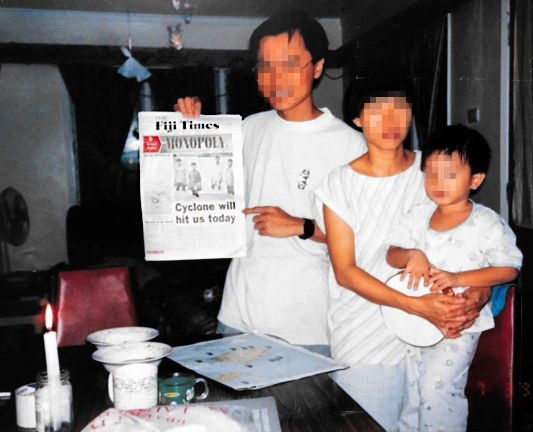 Cyclone Gavin made landfall in March 1997. We were never told how to prepare for a storm. The day before, supermarket shelves were already emptied of food and water, and our landlord told us to board up the windows. However, we could not find any planks in our yard, so we were nervously exposed to what these kinds of winds could do. It was calm before the storm, but when it hit, everything moveable outside started flying. We were so afraid that if anything hit the glass louvre windows, we would be in real trouble. Our van parked outside was rocking hard left and right, looking like it might topple. Soon after, we lost electricity and running water.
That first night, we were busy scooping out water that had come through the window and door gaps, with only one small candle giving us light. We were very concerned as to what would come next. Our son, however, started singing cheekily, "With Christ in the vessel we can smile at the storm, smile at the storm…" We looked at each other speechless, but then started singing along with him. Indeed, our God amusingly affirmed that He was with us that stormy night.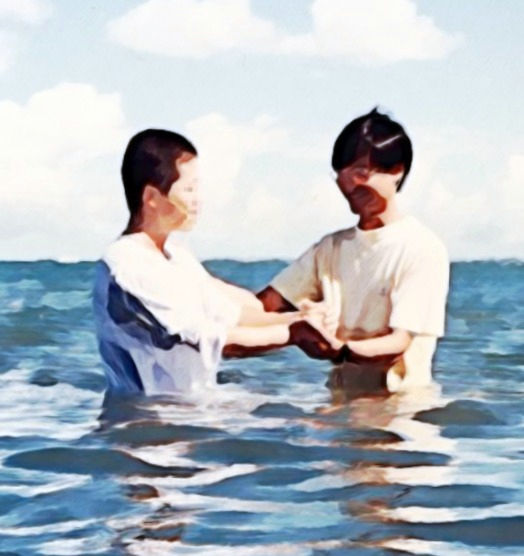 Doctor B
Dr B joined our church after he arrived in Fiji to work at a local hospital. He was not yet a believer but wanted to understand Christianity. He was already reading the Bible, and wanted to finish reading it before believing. However, he was challenged to believe first in order to read with the Holy Spirit's help. One night, at our small group Bible study, he made that decision. Soon after, he was baptized on Christmas Day 1996 in the Pacific Ocean. Right after baptism, he asked how he could serve the church. I thought maybe he could help with cleaning up the church after service or fetching members to church and back by van. Little did I know that God had greater works than these for him. Dr B's conversion marked a significant milestone in our ministry with Chinese-speaking people.
Our time in Fiji soon came to an end after 15 months. It was our first ministry experience working with Chinese-speaking people, and the first church we pastored. It was the most fulfilling ministry we had ever been involved in.
Serving in East Asia
Many years went by. In obedience to the Lord, we served about fourteen years in East Asia. Finally, we were preparing to leave for good. A week before our departure, a friend was planning a visit to the city Dr B was known to be from. In jest, I asked this friend if he could look for Dr B. Guess what? The day before our departure, out of the blue, Dr B called on the phone! In a city of millions, our friend had found him. After more than twenty years without contact, we were thrilled and encouraged to hear his voice. It was hard to contain our curiosity about how life had been for him, but he skirted around some of our questions.
It was only after we had left that we learned he was leading a church of 500 people. Upon hearing that, we were moved to tears. What a closure to our ministry season! We began in a small way in Fiji, and after all the years of our ministry journey, the Lord affirmed to us that our ministry to the Chinese-speaking people had not been in vain. We are grateful to our Lord who called us and enabled us not only to survive, but thrive.